Luxury Kitchen Design & Remodeling
High-End Kitchen Remodel | Custom Kitchen Cabinets | Luxury Kitchen Design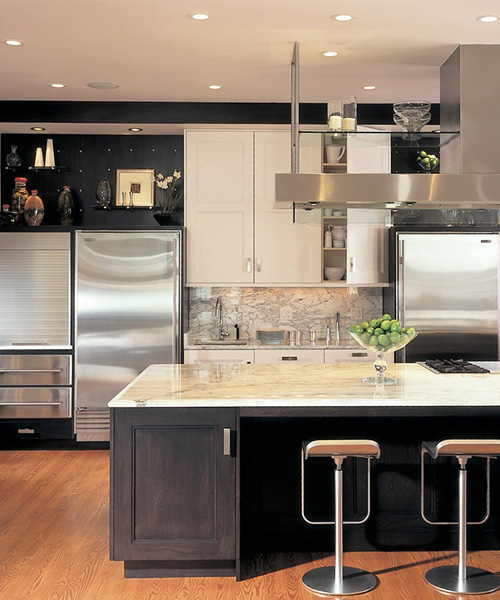 When you take a step back and think of the areas in your home that are used the most, your kitchen is top of that list. From preparing food and enjoying meals with friends and family to catching up on work and cleaning, your kitchen is one of the most used areas in your home. Seeing as you spend so much time in your kitchen, it's important to have it be both functional and aesthetically pleasing. 
William Ohs has been in business for almost five decades. In that time, we have built our reputation of extreme attention to detail and high-quality products that will stand the test of time. Whether you are building a new home and want assistance with designing your personalized high-end kitchen, or you're not in love with your current kitchen and want to start a luxury kitchen remodeling project, our team of artisans can help with it all. We work with you from conception to completion to ensure each and every detail is up to your standards. We are highly skilled in a variety of styles, including traditional, transitional, contemporary, and more. Contact us today to talk through your luxury kitchen design, and we will bring your vision to life.


Traditional Custom Kitchen Designs
Everyone has their own sense of style and eye for design. If you are more drawn to a sophisticated and classic style, our traditional kitchen designs are a great option. They embody traditional furniture and have a simple elegance similar to European kitchens. 
Our team of artisans at William Ohs have the skills and experience to hand-carve meticulous details that will make your custom kitchen stand out from the rest. In fact, William Ohs' Renaissance custom cabinetry designs are the envy of craftsmen across the globe. When it comes to the most premium custom kitchen designs in the United States, Renaissance is the most sought after style offered. From assisting with where to place appliances to increase the functionality of your space to creating high-end kitchen cabinets, we bring the entire space together to create a harmonious design. 
Interested in working with William Ohs to design a traditional, high-end kitchen in your home? Get in touch with us today to talk through your project. In the meantime, check out our gallery of custom traditional kitchen designs we have completed for past clients to get inspired and hone in on the details you want to elevate your kitchen.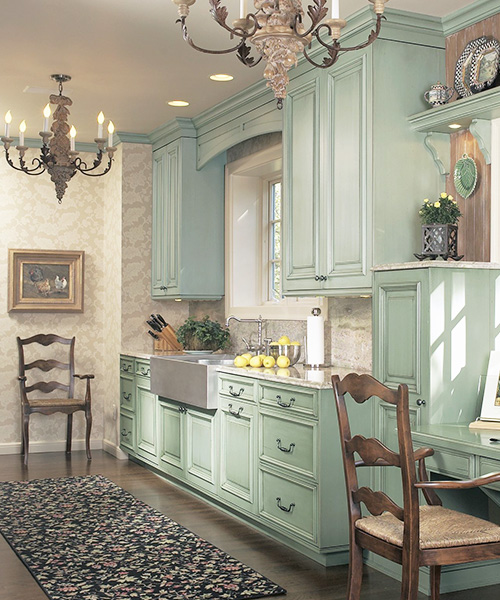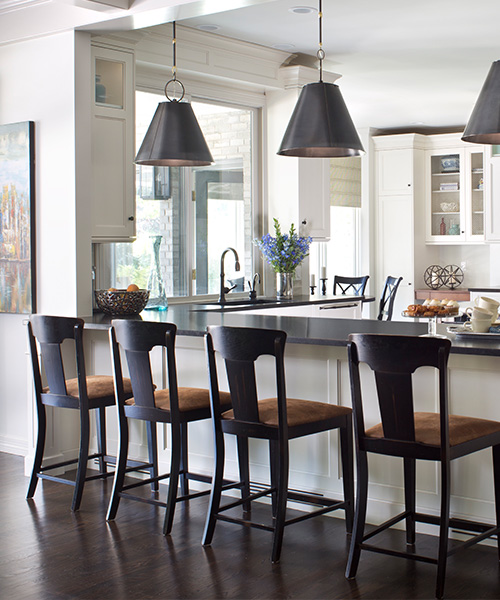 Transitional Custom Kitchen Designs
When you envision your dream luxury kitchen design, what do you picture? Do you imagine elegant touches of traditional detail with a modern twist? If so, you're envisioning a transitional style. You like aspects of traditional designs, but you also are drawn to contemporary features as well, landing you somewhere in the middle. 
William Ohs' transitional style of custom kitchen designs bridges the divide between what most consider traditional vs. contemporary. In doing so, we are able to create a luxury, modern kitchen design with traditional accents to create a unique and beautiful style. When you begin your high-end kitchen design project with our team of artisans, we will help create every element to encompass your eye for design. From custom frames and panels to slab cabinet doors and everything in between, there is nothing our expert team can't do. 
Spark your creativity by browsing through our gallery of custom, transitional kitchen designs we have completed. Once you have an idea of what you'd like your high-end kitchen to look like, give us a call. We will take the time to understand your vision and put our skills to work to create the luxury kitchen you've always dreamt of. 

Contemporary Custom Kitchen Designs
Imagine yourself standing in your perfect kitchen. What do you see? Are there sharp angles and clean lines with modern details? If so, you're envisioning a contemporary kitchen design. While William Ohs is widely known for our traditional kitchen designs, we are also able to use our skills and expertise to create high-end kitchen designs with the modern twist you're looking for. 
Our artisans know how to seamlessly create an updated look that encompasses current trends. Unlike other companies that specialize in custom kitchens, we embrace innovation and use our knowledge to produce unique designs that accentuate the modern style you're wanting. Our custom-made cabinets can fit any design, making the possibilities endless to make your custom kitchen unique and one-of-a-kind. 
Curious about what a contemporary, custom designed kitchen looks like? We have a wonderful gallery from past projects that you can look through to get an idea of the many options you have when it comes to designing your luxury kitchen with a contemporary style. If you're ready to get started on your custom kitchen design with William Ohs, contact us today! We are ready to hear your needs and put our skills to the test.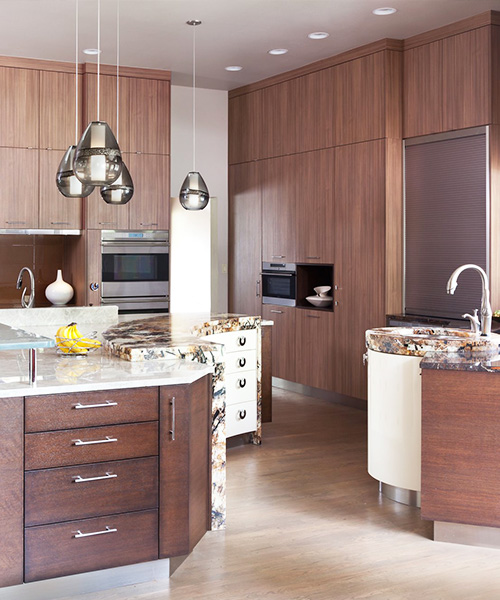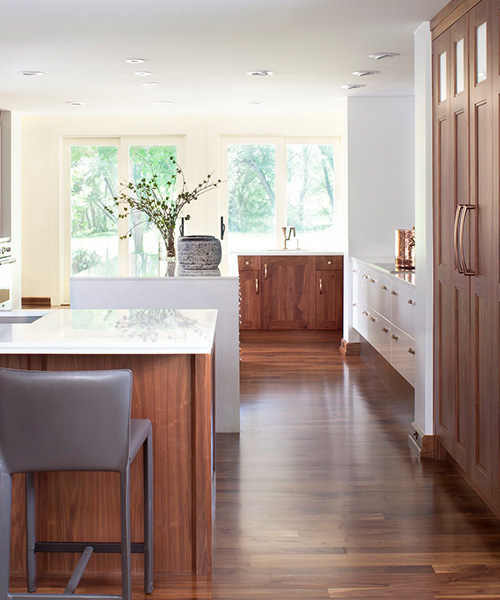 We understand that starting a custom kitchen project, whether you're remodeling an existing kitchen, building a brand new kitchen from the ground up, or looking into having custom kitchen cabinets design can be an intimidating thought. However, you can have peace of mind working with William Ohs. We have been in business since 1972, and have perfected our process to provide you with a stress-free experience. 
When you contact our team to talk through your high-end kitchen design project, we take the time to listen to all of your thoughts and input. From there, we ask follow-up questions to ensure we are understanding your needs and will deliver the results you're wanting. 
Once we clearly understand your vision, our master artisans will get to work and start creating custom products. From custom-built cabinets to simplified moldings, optional hardware, and much more, we will create a kitchen that is unique to you and your home. With our extreme attention to detail, your expectations will be met, if not exceeded. 
After your custom-made products are complete, we begin the finishing process which includes our craftsmen mixing colors and stains to create endless possibilities and ensure your kitchen is unlike any other. When we have your products completed to our standards and specifications, we will install them in your home, leaving it looking far better than when we arrived. 
When it comes to quality of products, William Ohs is second to none. We hold ourselves to an extremely high standard, so you can rest assured that when your custom kitchen is complete, there will be no faults or aspects that are anything less than perfect. 
Ready to begin your luxury kitchen design project? Contact us today to get started! Whether you're wanting a luxury kitchen remodel, custom-made, high-end kitchen cabinets, or anything in between, we are the custom cabinetry company for the job.
Create Your Dream Luxury Kitchen With William Ohs
An updated, professionally designed kitchen can make a huge difference in the overall appearance of your home. Whether your kitchen is outdated and could use a revamp, or you're wanting custom kitchen cabinets to encompass your unique style, our talented craftsmen are here to help. Just contact our team today, and we will take it from there!