The Art of Luxury Kitchen Design: Trends That Wow
Designing a luxurious kitchen is a dream for many homeowners. But with a plethora of options available, it can be challenging to choose the perfect style that will transform your cooking space into a haven of elegance and functionality. But the William Ohs brand and our luxury modern kitchen design experts can help you explore a few popular trends that are sure to impress both you and your guests. 
Browse through a few custom kitchen designs that we can help you create and contact us now to get started! 

Sleek and Minimalist Cabinets
Sleek and minimalistic custom cabinets have become a recent staple in luxury residential kitchen design. These cabinets feature clean lines, handleless designs, and a seamless appearance. Opting for high-gloss finishes in neutral colors or bold hues, such as deep navy or black, instantly adds a touch of sophistication to any kitchen.

Two-Tone Cabinets
If you want to add some visual interest to your kitchen, consider incorporating two-tone high-end kitchen cabinets. This trend involves pairing two contrasting colors or finishes to create a stunning focal point. For instance, combining white upper cabinets with darker lower cabinets can create a sense of balance and depth.

Open Shelving to Display Exquisite Kitchenware
Open shelving is a fantastic way to showcase your collection of exquisite kitchenware while adding an airy feel to your space. To create this luxury modern kitchen design, replace a few upper cabinets with floating shelves and arrange your beautiful dishes, glasses, and cookware in an artful manner. This trend works exceptionally well when combined with a complimentary backsplash that adds texture and personality.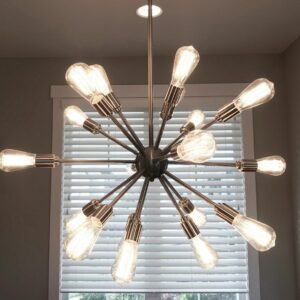 Statement Lighting Fixtures
Lighting fixtures have the power to truly elevate your custom kitchen design's ambiance. Incorporating a statement pendant or chandelier can become a captivating focal point, creating a sense of drama and luxury. Opt for fixtures that not only enhance the aesthetics of your kitchen, but also provide ample task lighting to ensure practicality.
Find New Custom Cabinets With William Ohs
Designing a luxury kitchen involves keeping up with the latest trends while reflecting your personal style and preferences. The key is to strike a balance between aesthetics and functionality, so your kitchen becomes both a work of art and a practical space for culinary creativity. Explore more luxury kitchen design ideas and high-end kitchen cabinet colors with William Ohs!